Picking paper for a project can be a bit like seeing the tip of an iceberg from a distant boat. Sure, you want a nice thick cardstock for your business cards… but what kind of cardstock? Dull? Gloss? Textured? Subtle, off-white colouring? There's a whole world below the surface to explore. To help, we've created Trant Engineering as an avatar for some of our clients and their most common business card requests.
We'll go over the pros and cons of certain types of paper, finishing options, and other things that may not have come up in planning, like shells and imprinting.
Let's get into it.
Taking Stock
Picking Paper For A Project
So, what do you need to consider when picking a paper stock anyway? Well, most people usually have the first one in mind already; weight. Paper weight is the thickness or sturdiness of a stock and is measured in pounds or gsm. The higher the number, the sturdier the stock. Simple enough, but there are two versions of this: text weight and cover weight.  You'll find text weight paper used in letterheads and brochures whereas cover weight will be used for business cards and postcards. Generally speaking, if you're looking to impress or if you need something more resilient, pick a thicker stock.
The next thing you'll want to consider is paper coating. We'll get into that below.
Coated Stocks
With a coated stock, you get increased colour vibrancy, sharper imagery, and higher resistance to tears, water, and grime. The trade-off, however, is that you can't write on it with most pens and the glare it has when light hits it.
Different subsets of coated stock are available depending on how shiny you'd like the end result to be. Our most commonly requested versions are gloss (very shiny) and dull (minimal shine), but there are also satin, silk, and matte if you'd like something in between.
Uncoated Stocks
Uncoated stocks are much the opposite of a coated stock. They're great for writing on, have no glare, and typically have a better feel at the cost of a bit of image sharpness and durability.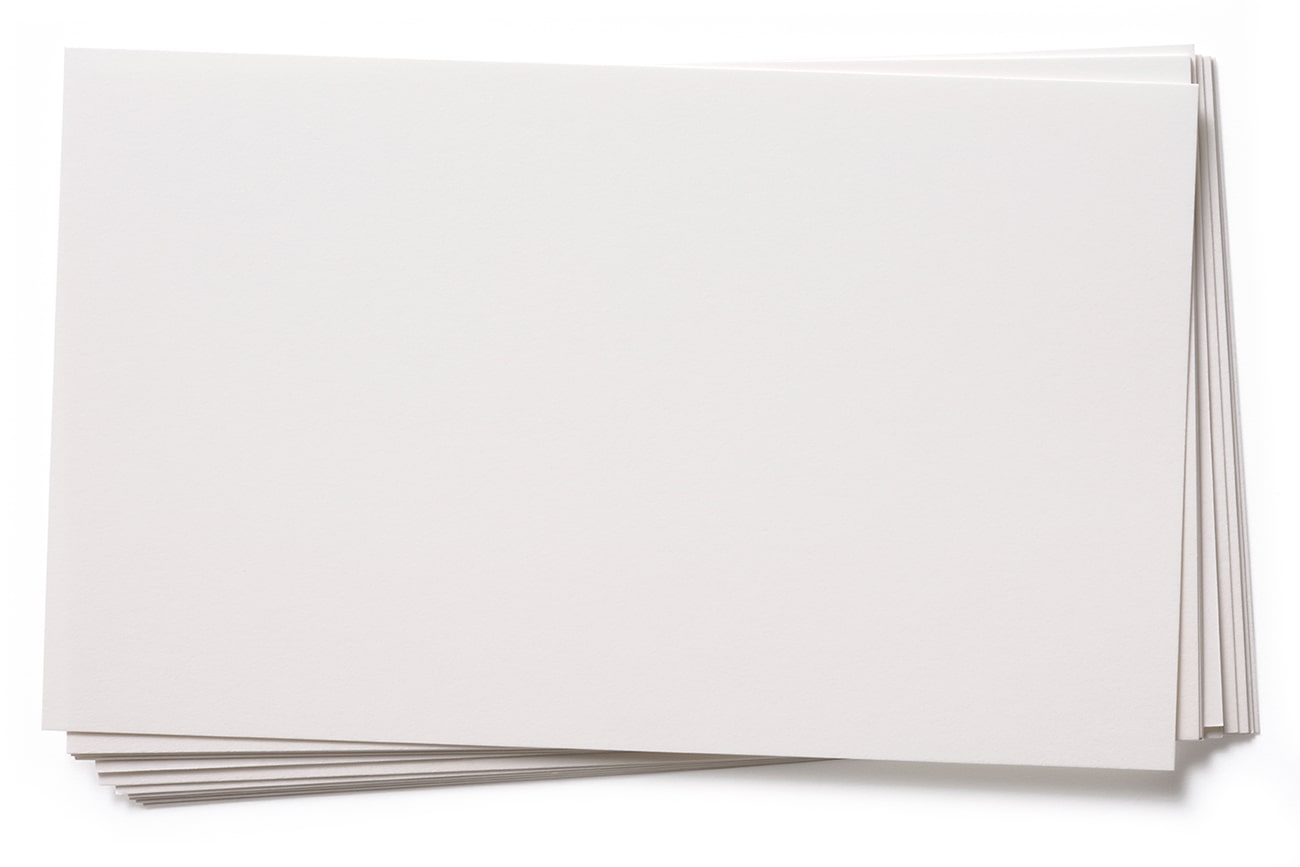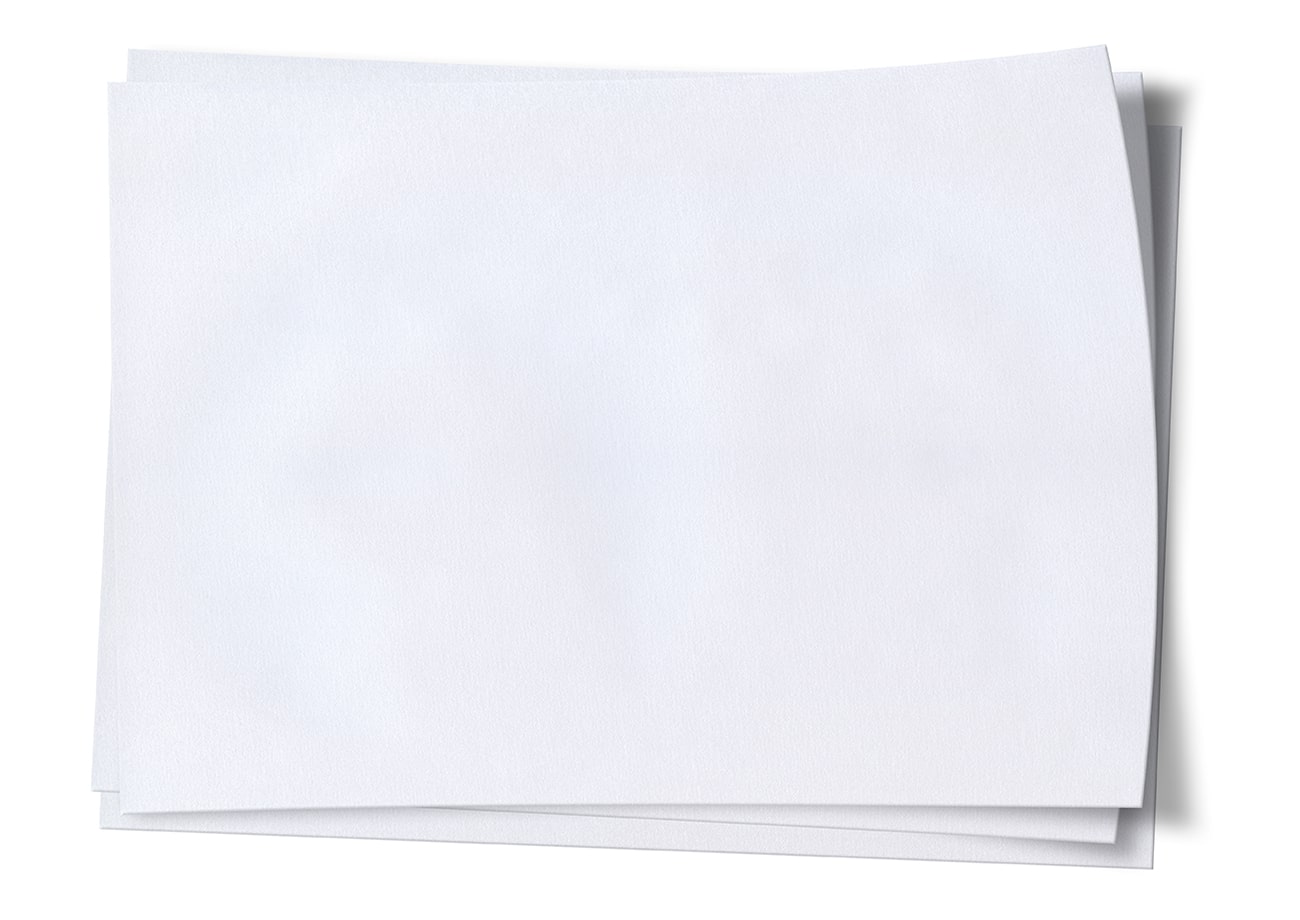 Specialty Stocks
The fancy stuff where the options are vast and cover everything from textured paper to synthetic alternatives. Specialty stocks are something to consider when you have a unique problem to solve. Textured stocks such as linen or felt look and feel like their fabric counterparts and look distinguished. Super smooth stocks make writing feel like gliding through the freshest powder snow. Synthetic stocks are tear-proof unless you have scissors for hands.
Really, there are too many options to cover in this article so be sure to ask for options if this is an area that interests you.
Over the years, we've discovered that clients in similar fields as Engineering like a business card that can hold up in a wallet and can be written on in a pinch. For those reasons, we've decided on 130# uncoated cover stock.
The uncoated stock will allow a wider range of writing utensils to be used and the thicker cover stock should handle sitting in a back pocket. To make things extra durable, we've also opted to dry mount two of these cover sheets together. We'll explore that next.
Doubling Up
Making Things Sturdy With Dry Mounting
Dry mounting is where you fuse two sheets of paper stock together. It's a quick way to get extra thick, durable prints without any specialty stocks or equipment. On top of that, your design can include unique finishes like embossing or debossing without having it appear on the backside of your project.
We've opted to double mount the business cards for Trant Engineering for enhanced durability, rather than the specialty finishing. The extra rigidity of a double-thick business card holds up well to being in a wallet or on a job site.
Lamination was another finishing option we considered when building these cards. It helps beef up the cards and makes them feel more premium as well.  The disadvantage is that it makes writing on them more difficult and so we opted out. Lamination is a pretty big topic to cover, so we'll discuss it further in a future case study.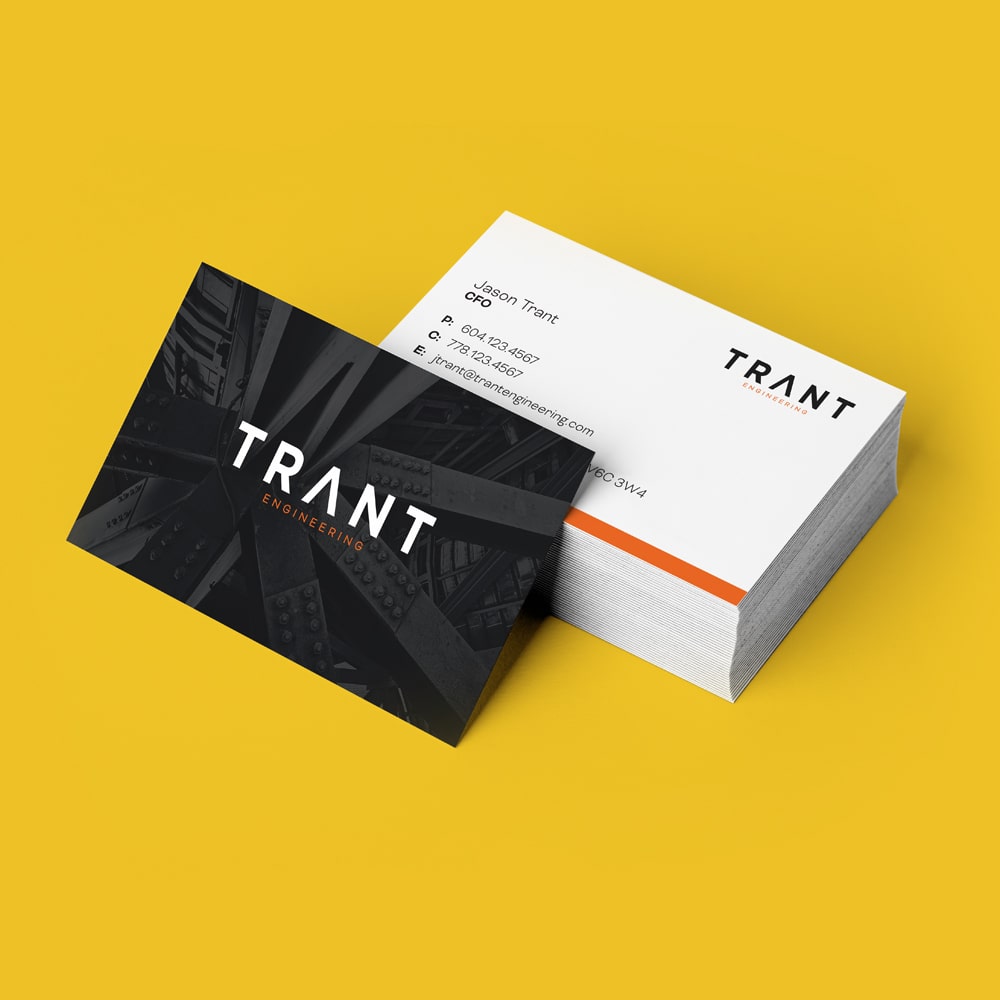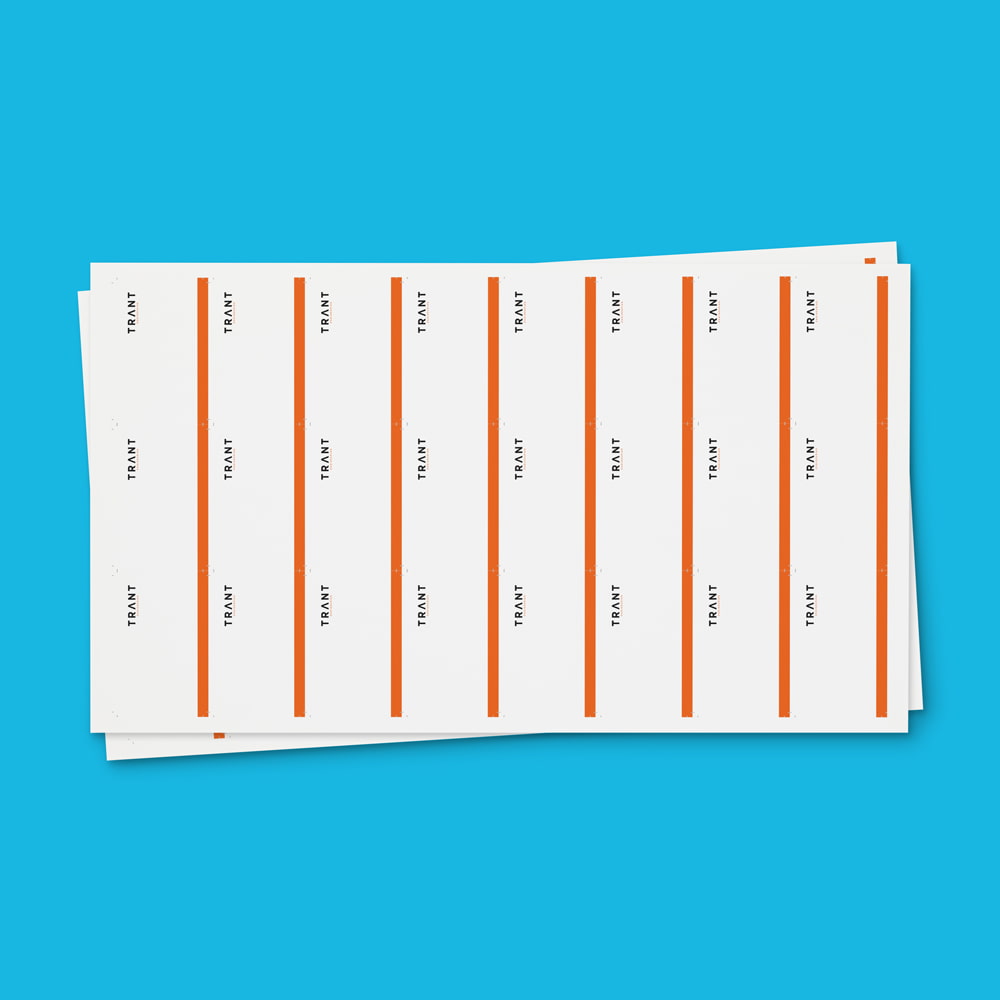 It's A Numbers Game
Printing Whole Cards VS. Imprinting On Shells
It's also important to think about quantities when it comes to business cards. Do you have a small business with only a few employees? If so, a standard print run will likely be the most affordable route. If you go through a ton of business cards or have many employees, then printing shells is the way to go.
Business card shells are pre-printed elements that can be run in large quantities to save costs. Things like company logos and other unchanging graphical elements get printed here, then employee names and contact information get printed afterwards in a second pass-through.
We've gone this route for the case study because it allows for long-term cost savings and flexibility when it comes to employee change over or position updates. Many of our clients choose to stick with a design for a few years anyway and go this route for the same reasons.
All in all, these Trant Engineering business cards are just one route to go down when choosing your paper stock. Our overall recommendation is to pick something that matches your brand, meets your budget, and provides you with enough flexibility for differently sized print runs.
If you ever have further questions about paper stocks or a print project, don't hesitate to reach out to us. We'll work in tandem to discover what works best for your needs.